RAISED BY BATS- the 11th studio album from Aurelio Voltaire
Now available digitally at CDbaby.com!
Now available digitally at itunes:
https://itunes.apple.com/us/album/raised-by-bats/id834098370
Big bat-winged thanks to everyone who contributed to the IndieGoGo campaign for this album and for making it such an enormous success! You can see the results of the IndieGoGo campaign by clicking HERE.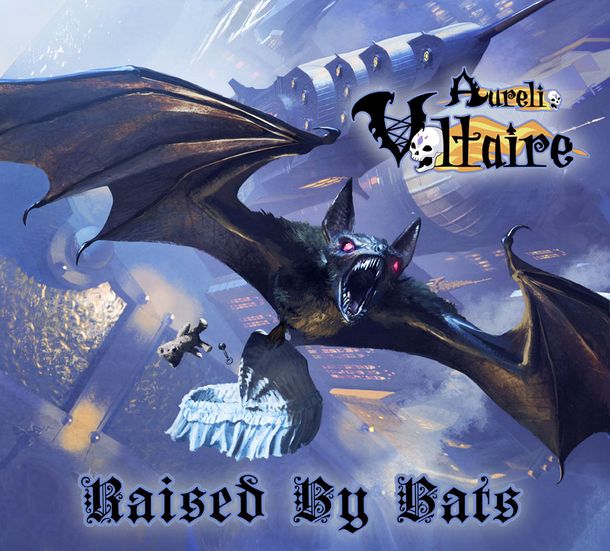 Cover art by Michael Komark
COMING: WINTER 2014 on Mars Needs Music.



After 10 full-length studio albums and two decades of being called a "Gothic" musician, Aurelio Voltaire finally makes a Gothic album! 
"In truth, it's a tour of all of the kinds of music I loved growing up. There are songs on this album that are Gothrock, Deathrock, New Wave, New Romantic, Darkwave and Dark folk. It's the album I've always wanted to make. Some of the songs were written as far back as 1984 when I was 17 years-old!" Aurelio Voltaire
Voltaire is joined by some incredible talent on Raised by Bats including:
Brian Viglione on Drums 
      from The Dresden Dolls/The Violent Femmes
Ray Toro on Guitars 
      from My Chemical Romance
Knox Chandler on Guitars  
      from Siouxsie and the Banshees/Depeche Mode
Craig Adams on Bass
      from The Mission UK/Sisters of Mercy/The Alarm
Melora Creager on Cello 
      from Rasputina
Frank Morin on Guitars 
      from World Inferno Friendship Society
Emilio Zef China on Bass and violin
      from Peter Murphy's band 
Chris Ianuzzi on keyboards 
      from I, Synthesist and
Armen Ra on theremin.

Guest vocals by:
Julia Marcell
Chibi of the Birthday Massacre
The Cruxshadows
Bella Morte
Ego Likeness
Zombina and the Skeletones and
Angelspit!
EXCERPTS FROM THE ALBUM CAN BE HEARD RIGHT NOW ON VOLTAIRE'S SOUNDCLOUD PAGE!
https://soundcloud.com/AURELIOVOLTAIRE
TRACK LIST:
1) Raised by Bats
2) Oh My Goth!
3) The Night (written in 1989)
4) The Masquerade (written in 1984)
5) The Devil and Mr. Jones
6) Sacrifice
7) The Conqueror Worm (written in 1993)
8) Wake Up (written in 1989)
9) Never (written in 1993)
10) Captains All
Previous events
HaVoK presents Aurelio Voltaire LIVE at Scout Bar DJ Naika Whisperwish All Ages Welcome Doors at 7pm With DJ Whisperwish
General admission and Table reservations available!
Voltaire's Self Run Social Networking Pages!
Search This Site And the Web
Custom Search