Aurelio Voltaire is often described as a modern day renaissance man. He is a singer/ performer, creator of comic books, animation and toys.
AURELIO VOLTAIRE MUSIC BIO: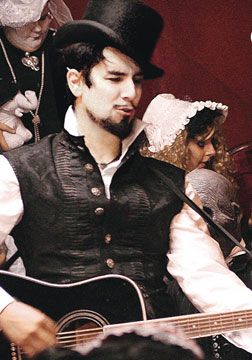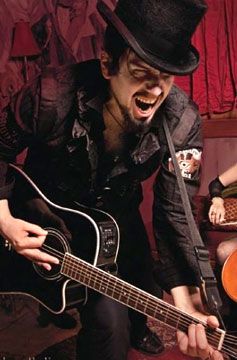 photo by Jimmy Lin                                                   photo by Alas Vera
As a musician, he is a songwriter whose music can best be described as a collection of murder ballads, tongue-in-cheek exercises in the macabre, with just enough bawdy songs about Star Trek and Star Wars to keep a convention audience rolling in the aisles. Many know him for his songs "Brains!" and "Land of the Dead" from the Cartoon Network show "The Grim Adventures of Billy And Mandy".
Aurelio Voltaire's live shows, whether solo or with his skeletal orchestra, are full of stories and games. Many describe his shows as sitting around a fire while an old friend regales you with tales, presuming that old friend drinks a liter of rum a night, dates zombies and wrestles Krakens.
Voltaire has been recording and touring for 20 years. He's released 11 full length albums. The first five were released by Projekt Records. These days, Voltaire self-releases most of his CDs.
 AURELIO
VOLTAIRE FILMMAKING BIO: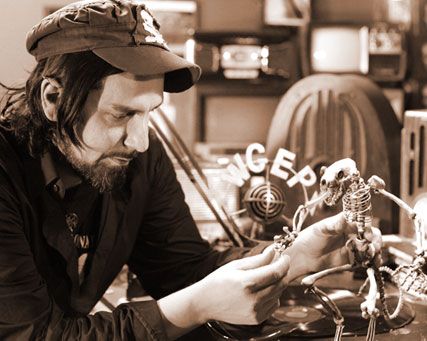 photo by Edwin Pagan
Aurelio Voltaire started his career as a stop-motion animator and director in the eighties, at a handful of New York City animation houses, During those years, a teenaged Voltaire animated stop-motion commercials for Budweiser, Ikea, RC cola, Hess, Parker Brothers, Kellogg's, Arm and Hammer, Marvel and many others. He made his mark as a director shortly thereafter creating award winning station IDs for MTV including the now classic "MTV Bosch". Based on the work of Hieronymus Bosch, the 15th century, Flemish painter, this station ID brought to life the hell panel of his famous "Garden of Earthly Delights" triptych via stop-motion animation. The spot took home a handful of awards and was included in a time capsule of 20th century programming that was shot into space. Moreover, it established Voltaire's unique style of whimsically dark animation and surreal storytelling. Voltaire then went on to direct a handful of horror, sci-fi and Halloween oriented station IDs for SyFy Channel, USA Networks, Discovery, The Learning Channel, Fangoria and others .
After a ten year hiatus from the film business that saw Voltaire develop a large following for his music, comic books and toys, Aurelio Voltaire has returned to making films for the love of it. He is presently working on a series of shorts call the "Chimerascope series". Based on the station ID work he did for MTV and SyFy Channel, each film is about a minute or two long, animated in stop-motion animation and feature narrations by singers of note. The first four films in the series are narrated by Danny Elfman (Oingo Boingo), Gerard Way (My Chemical Romance), Deborah Harry (Blondie) and Richard Butler (The Psychedelic Furs). The films have toured the festival circuit and have been seen at scores of horror and animation film festivals around the world as well as collected a handful of awards. More Chimerascope shorts are presently in the works.
Voltaire has also recently written his first feature length screenplay, "Call of the Jersey Devil". The film is a live action, horror/comedy feature film Voltaire hopes to direct. The script won "Best Screenplay" at The NYC Horror Film Festival as well as at the Rocky Mountain Horror Film Festival in 2010.
AURELIO VOLTAIRE TOY BIO: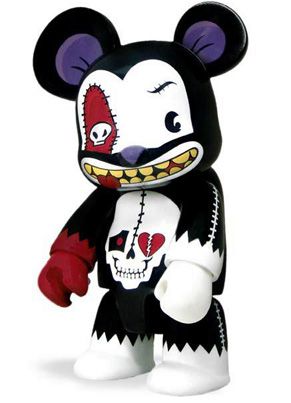 Photo by Voltaire
In 2004 Hong Kong's premiere vinyl toy company, Toy2R, introduced Aurelio Voltaire to the world of "designer vinyl" by manufacturing a toy of his comic book character, Deady. It was an instant hit and lead to a string of other Voltaire toys including a line of "Pocket Goth" plush toys for Toy Network that were made for the games and amusement market. Those toys were available as prizes at all of the major amusement parks as well as in crane machines at Walmart, Toys R Us, etc.
Voltaire continues to make toys, mostly of his character, Deady. Recent Deady toys include a figure made by Disney and Minstyle (of Deady as Stitch from their film "Lilo and Stitch"), an 8-inch Deady figure by Toy2R that was co-branded with the popular on-line role-playing game AdventureQuest Worlds, a Deady Hot Wheels car by Mattel for the Japanese market as well as collaborations with the ubiquitous "Skelanimals" characters (also by Toy2R).
Previous events
HaVoK presents Aurelio Voltaire LIVE at Scout Bar DJ Naika Whisperwish All Ages Welcome Doors at 7pm With DJ Whisperwish
General admission and Table reservations available!
Voltaire's Self Run Social Networking Pages!
Search This Site And the Web
Custom Search