RELEASED May 28th, 2013 from Spence City:
You can order a copy of this book from Amazon right HERE.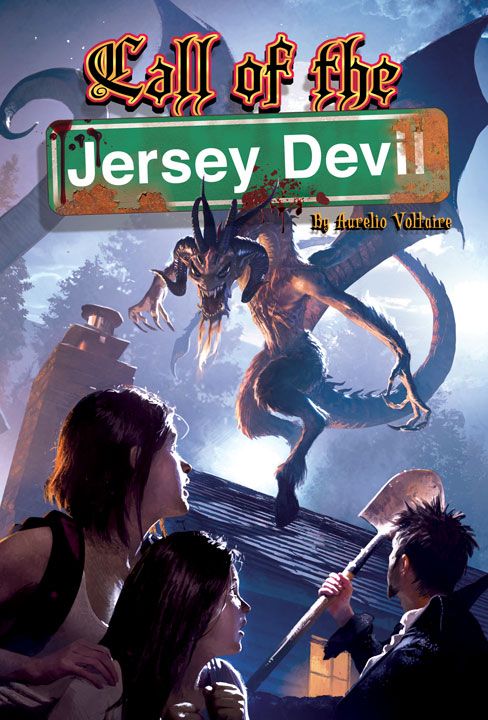 Praise for Call of the Jersey Devil
 "Aurelio Voltaire continues his reign among the pantheon of Goth gods. CALL OF THE JERSEY DEVIL is sly and sweet, nasty and naive, sulphurous and charming, witty, wooly, crackling with evil and stunning in its sincerity. What a read! Long live Voltaire!" - Caroline Thompson (The Nightmare Before Christmas, Edward Scissorhands, Corpse Bride, The Addams Family)
"I LOVE it! It's mental, and hilarious, and brilliant, and *kind of* gross"- Joanne Harris (author of Chocolat, Runemarks, Runelight, Blue Eyed Boy)
Over 40 reviews on Amazon.com can be found HERE.
SYNOPSIS: "Five suburban mall rats and a washed up Goth singer, find themselves stranded in the Pine Barrens of New Jersey where they discover two horrifying truths: The Jersey Devil, hell-spawn of folklore and legend, is real; and New Jersey (as many already suspected) is the gateway to Hell!
With the help of one lone witch, this small group must face off against their deepest fears and the most unholy monsters in a battle where their very souls, the world they live in, and any chance of returning to Hot Topic in one piece is at stake!
The first novel by musician and horror media personality, Aurelio Voltaire, Call of the Jersey Devil is a hilarious and terrifying homage to 80s horror and genre films. Like a mad doctor, Voltaire has Frankensteined together elements of Evil Dead, The Breakfast Club, Poltergeist, and This is Spinal Tap to create a creature feature that will have you laughing out loud when you're not glancing nervously over your shoulder."
Release date: May 28th on Spence City
PLEASE ADD IT TO YOUR GOODREADS.COM LIST OF BOOKS TO READ!  http://www.goodreads.com/book/show/16138644-call-of-the-jersey-devil
Order a your very own copy now at AMAZON.COM by clicking HERE.
About the Author: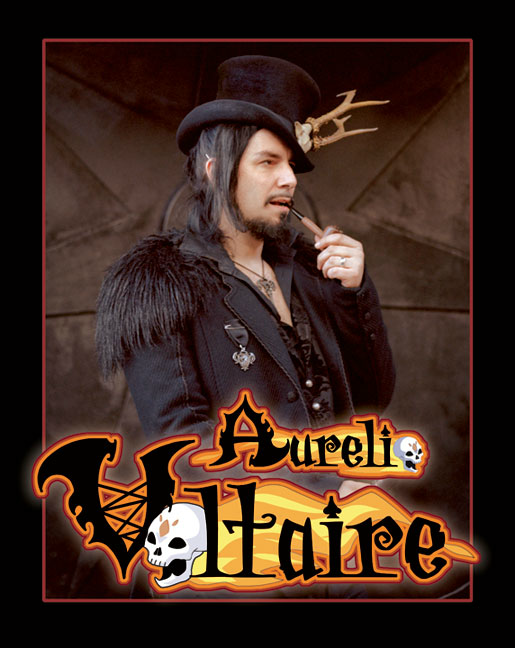 photo: Paul Collins
Aurelio Voltaire is a media personality and respected authority on all things Gothic, Horror, Sci-fi, Steampunk and involving "geek" culture. He is often referred to as a modern day renaissance man having achieved success in the fields of animation, music, comics, books and toys. 

Voltaire's career began in the 1980s as a stop-motion animator and director, creating some of the award-winning, classic MTV and SyFy channel station IDs. He worked in television, animating and directing commercials for nearly twenty years when he realized it was time for him to tell his own stories. Finding comic books to be a vastly more economical tool than feature films Voltaire told his first epic tale, "Chi-chian" in comic book form. This dark, Cinderella story set in Manhattan's future, was published and led to a 14-episode animated web series directed by Voltaire for the SyFy channel's website. His success in comic books also led to several underground hits including the comic book series Oh My Goth!, Human Suck! and most recently Deady. The latter featured collaborations with some of the biggest names in horror and comics including Neil Gaiman, Clive Barker, James O'Barr, Roman Dirge, Gris Grimly and many others. It also spawned a long list of toys including plush toys for Six Flags, Hot Wheels cars for the Japanese market and over a dozen vinyl toy releases including collaborations with Disney and Skelanimals.

In yet another career swerve, 1995 saw Voltaire take the stage at a New York City club where he launched his music career. His songs are a strange brew of murder ballads, tongue-in-cheek exercises in the macabre with just enough bawdy Star Trek and Star Wars songs to keep convention audiences rolling in the aisles. Many in the mainstream know Voltaire as the writer and performer of the songs Brains! and Land of the Dead from the Cartoon Network show, The Grim Adventures of Billy And Mandy.  Almost constantly on tour, he has played his music around the world and released eleven full length CDs to date.

Voltaire also wrote the popular books What is Goth? and Paint it Black: a Guide to Gothic Homemaking (Weiser Books) and has appeared on numerous television shows and documentaries as an authority on Goth, Horror and Steampunk. Appearances include Fox News, Biography, MTV News, Fearnet, IFC, PBS and others. 

When not touring, writing books or designing toys, Voltaire teaches stop-motion animation at the School of Visual arts and continues to make short films. His "Chimerascope" series of stop-motion shorts are perennial film festival favorites. The five shorts have won a combined 31 awards and feature the voice talents of Deborah Harry, Richard Butler, Gerard Way, Gary Numan and Danny Elfman
*********************
The glorious cover art by Michael Komarck: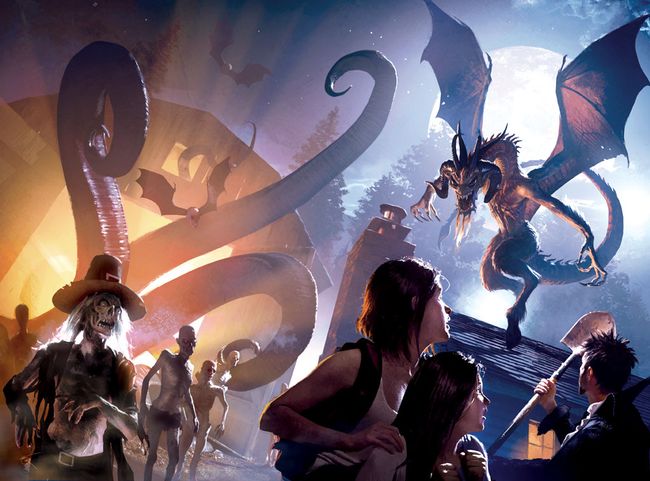 Click image to enlarge
Visit Michael Komarck's website here: http://www.komarckart.com/
One of the five interior illustrations by Paul Carrick: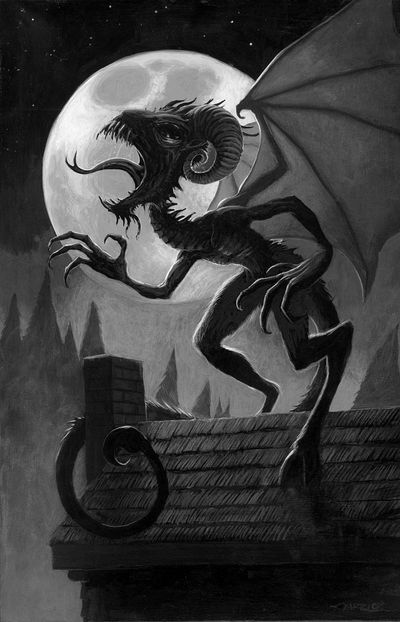 click to enlarge image
Visit Paul Carrick's website here: http://www.nightserpent.com/
Publisher's Links: 
Spence City website: Click HERE
Spence City Twitter: Click HERE
Spence City Facebook: Click HERE
Previous events
HaVoK presents Aurelio Voltaire LIVE at Scout Bar DJ Naika Whisperwish All Ages Welcome Doors at 7pm With DJ Whisperwish
General admission and Table reservations available!
Voltaire's Self Run Social Networking Pages!
Search This Site And the Web
Custom Search