CHI-CHIAN
A Cinderella story for the 31st century
The books: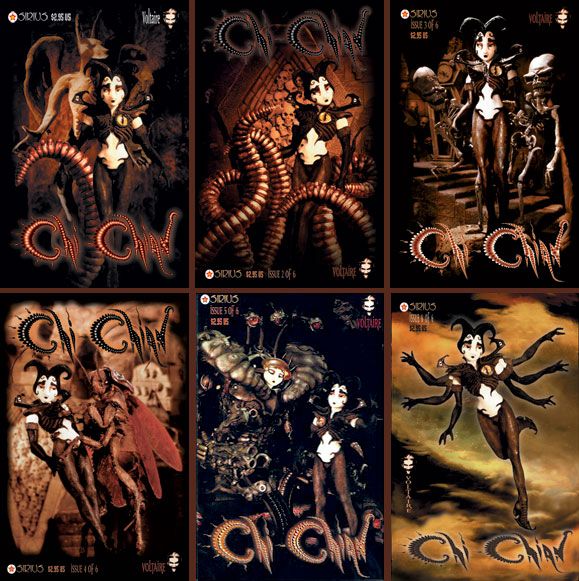 Chi-chian began as a 6 issue comic book mini-series written and drawn by Voltaire and published by Sirius Entertainment in 1997. In this Cinderella story for the 31st century, an orphaned young girl named Chi-chian must fight against giant robots, enormous mutant insects, a race of zombie monks and her own twisted family to restore her father's name and take her rightful place in the family. Chi-chian (pronounced: CHEE chan) lives in Manhattan in the 31st century. After the New York/ New Jersey war, Manhattan is sold to a Japanese company called Mimitsu to be used as a testing ground for organic technology. Her father, Soma Mitsui had ushered in a new golden age for New York city with his many environmentally and spiritually advanced inventions. But years after his death, when things start going horribly wrong, Chi-chian, a lowly Wormtrain wrangler, must fight against all odds to prove her father was not a "psychopath" intent on destroying the world. In the process, she learns some important things about herself in this coming of age story.
      Images from the Chi-chian comics. Click to enlarge
Voltaire is presently working on compiling the 6 issues into graphic novel form. No release date is set as of yet.
The statue:
Click on photo to enlarge
In 1998, premiere Japanese action figure, model kit and statue company, Fewture Models/Artstorm, produced a rare Chi-Chian cold cast porcelain statue.  It was sculpted by SHIGERU YAMAZAKI  and limited to only 200 pieces worldwide. It's a rare find, when you find one.
The webseries:
You can now see them right here on www.voltaire.net (one episode per week will be uploaded starting on Tuesday, March 29th)
JUST LOOK UNDER "FILMS"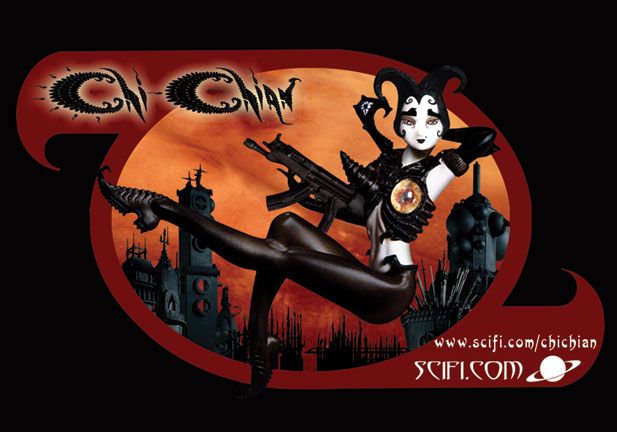 In 2000, The Sci Fi Channel commissioned Voltaire to write and direct a 14-episode animated webseries for www.scifi.com. Wanting to incorporate stop-motion in some way into what was a then nascent Flash animation program, Voltaire, with a team of experts, devised a way to make a Flash series that looked photographic instead of drawn. To that end, a model building team sculpted and cast all of the characters in silicone and foam rubber just as would be done for a stop-motion film. The models were then posed and photographed and then cut up in Photoshop into digital "paper dolls". The animation was then done using a technique similar to how South Park was created. At the crest of what would be the first wave of internet animation, Sci Fi spared no expense in what was possibly one of the most expensive web-series ever created. A fantastic animation team as well as voice acting team was assembled with the main character of Chi-chian being beautifully voiced by well known actress, Bai Ling. The series won the Flash Forward Film Festival's People's Choice Award in 2000. While Flash Forward and critics hailed its inventiveness and creativity, being ahead of its time proved to be a hurdle for the production. Average episode file sizes of 4 megabytes lead to long download times for the average internet viewer many of whom had excruciating slow dial-up connections. Nonetheless, the series found a fiercely loyal fan base, amongst them legendary horror writer and filmmaker, Clive Barker. In an interview Barker says of Voltaire and his creation...
"...the man is a god... I'm a huge fan... It's a wonderful creation and my husband can do a perfect impersonation of Chi-Chian saying, "Why can't everybody be nice?...We love that world! David and I would be sitting, watching... waiting to see the further adventures of Chi-Chian."
The Chi-Chian animated web-series continued to be viewable on SciFi.com for years after its inception. However, once they changed their name to "Sy FY" all of the links to this wonderful story were lost forever.
*******You can now see them right here onwww.voltaire.net (one episode per week will be uploaded starting on Tuesday, March 29th)
JUST LOOK UNDER "FILMS"  ******
The webseries: STORY
The story told in the Chi-chian webseries is called "Chi-chian: The Black Seed" (though that title was never publicly announced). The events take place where the comic book mini-series left off. With Sora and most of the Mimitsu elders out of the way, the dreaded Patahn Pahrr take over Manhattan. But plans to rule the city are not enough for the insect masters that guide them. They create a city-ship to infest the world with their kind. Chi-chian's non-violent ways are put to the test when she and the ones she loves are threatened by the evil menace. Together with Sebastian and her friends, the cockroaches, she sets out to put things right.
Scenes from the Chi-chian webseries. Click to enlarge
These images also happen to appear in the Chi-chian calendar and regardless of whether you are in the 21st or 31st centuries, you can get one anytime at Cafepress.com.  
Find one here:  http://www.cafepress.com/voltairenyc.95903121
The Role Playing Game: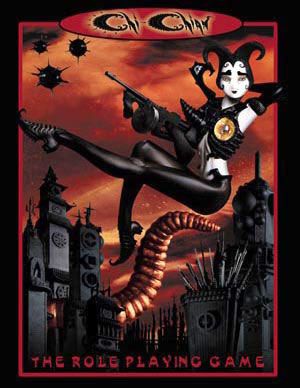 The popularity of the Chi-chian webseries on the Sci Fi Channel's website lead to some other fun projects for Chi-chian including a role playing game made by Aetherco. This Dungeons and Dragons style RPG uses simple rules, a source book and dice to allow players to create characters in the Chi-chian universe and with the help of a great dungeon master (and some sample adventures in the book) battle giant robots, mutated insects, zombie monks, government forces or each other in pursuit of the treasures to be found in Chi-chian's world.
 With entries for every character that appears in the webseries as well as the comic books, this book doubles as a bible for the Chi-chian universe and is a must have for any serious Chi-chian fan, or any game developer looking to bring her adventures to the little screen.
Released in 2005 by Aetherco
Retail price: $29.95
Hard to find. Best bets are Amazon or Ebay
The Chi-chian Hotwheels cars
In 2007, Voltaire was invited to Japan to be the artist guest of honor at the Osaka Hot Wheels Custom Car show.  Part of his duties included designing the official 2-car set for the show. Voltaire chose to make one a hearse inspired by his character, Deady and the other car was a Dairy Delivery truck dedicated to Chi-chian. That Hot Wheels car was called the "Chi-chian Worm Wrangler".  The two car set was available exclusively at the show in Osaka and needless to say they are now buried in the vaults of serious Hot Wheels collectors across the land.  A variant of the Chi-Chian Worm Wrangler was made by Hot Wheels for sale to their Collector's Club members on-line.  Only 1,200 of those cars were made and they sold out within seven minutes of them being available on-line. They retailed for $39.99.

Click to enlarge images
The Chi-chian Sci Fi Channel Station ID
After issue number one of the comic book series had been drawn but before it had been published, Sci Fi Channel gave the old girl a shot in the arm. Around 1996, Voltaire had directed a Halloween station ID. Shortly thereafter, the head of on-air promos at Sci Fi , Ken Krupka, asked Voltaire to come up with a ten second station identification piece for the channel. Voltaire pitched a stop-motion spot featuring his newly born heroine, Chi-chian. Ken, who was a fan and supporter of Voltaire's work green-lit the piece. In doing so, he gave Chi-chian the boost she needed to become a published comic. For that Ken Krupka will always be remembered as a visionary and friend. Sadly, Ken passed away long before his time. This spot is dedicated to him.
The Live Action Feature Film?
Chi-chian has twice been optioned to be developed into a live action feature film (and video game). The first time, it was optioned by a company called Lonetree in 2002. That signing prompted this write up in the Hollywood reporter:
  

Sci Fi heroine hits big screen
Article from: Hollywood Reporter | October 28, 2002 | McIntyre, Gina |
Plucky comic-book heroine Chi-Chian is taking her mission--to save 31st century Manhattan from giant insects, secret police and samurai robots--to the big screen.
Independent production company Lonetree Entertainment has acquired the exclusive film, television, publishing and game rights to the comic book and animated series from its creator, New York artist and animator Voltaire.
Chi-chian was optioned again in 2009 by Framelight Productions. That prompted this cover story in the Hollywood reporter:
Link to story :
http://www.hollywoodreporter.com/news/framelight-ramps-chi-chian-90559
 or read below:
  
      Framelight ramps up 'Chi-Chian'
          12:00 AM 10/28/2009 by Steven Zeitchik, AP
Production banner Framelight is ramping up. The company has optioned rights to the cult comic "Chi-Chian" and will develop it as a feature.
The fairy tale-tinged "Chi-Chian" is set in a dystopian New York -- the city has lost its independence and become a prefecture of Japan -- and centers on a seemingly ordinary young woman who has been tapped as a heroine and must fight samurais, robots and zombies to protect her loved ones.
The property, which began life as a six-part comic book from the Cuban-American musician Voltaire, spawned a set of digital episodes for Syfy and Syfy.com as well as a role-playing game.
Voltaire, whose full name is Aurelio Voltaire, is an artist and musician who has developed a following for avant-garde storytelling and artistry. Jeffrey Erb and Robert Robinson Jr. will produce "Chi-Chian" under their Framelight banner."
Sadly, both option agreements expired without coming to fruition and Chi-chian has yet to find a production team that can bring this rich, vibrant and emotional story to the big screen.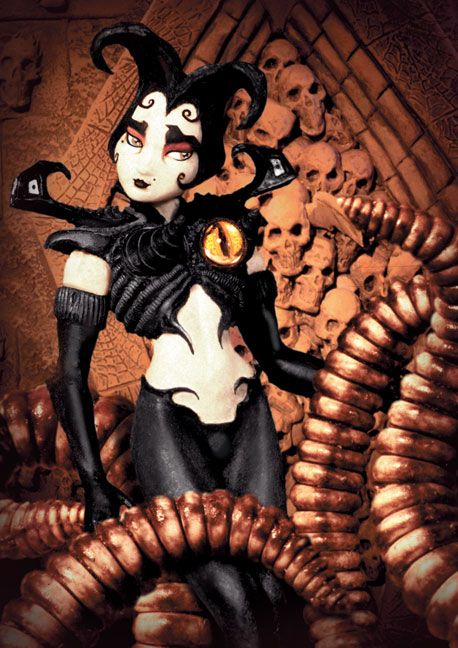 Previous events
HaVoK presents Aurelio Voltaire LIVE at Scout Bar DJ Naika Whisperwish All Ages Welcome Doors at 7pm With DJ Whisperwish
General admission and Table reservations available!
Voltaire's Self Run Social Networking Pages!
Search This Site And the Web
Custom Search