CHIMERASCOPE SHORT FILM SERIES: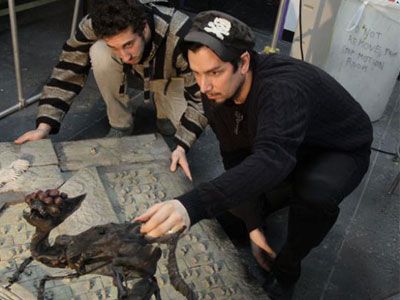 Welcome to the screening room! Below you can see some of Voltaire's "Chimerascope" short, stop-motion films that pick up where his station IDs for MTV and Sci Fi Channel left off. 
Voltaire describes the series thusly, "They are each about a minute long, animated in stop-motion animation and narrated by a singer. Moreover they each have a title that sounds like it could be a disease of some sort. These films have a dreamlike quality. The are intentionally short to give the viewer just enough time to take them in, but not enough time to truly examine every detail. The goal is to recreate the feeling a dreamer has upon awakening, when the dream is fresh in their minds but quickly fading. There is the sense that one has seen something fantastic, but one struggles to remember the details. The process employed in making the films is also tied to the surreal, allowing the animation itself to take shape in a stream of consciousness. Often, key plot points are conceived of on the spot, in the delirium of sleeplessness, in the wee hours of the morning after animating for hours. And lastly, the narration, unlike in most films, is written after the film is finished. It is based on what the visuals subconsciously suggest."
Narrators involved in the Chimerascope series so far include Deborah Harry of Blondie, Richard Butler of the Psychedelic Furs, Gerard Way of My Chemical Romance and Danny Elfman.
You can see the first four films below:
DemiUrge Emesis- narrated by Danny Elfman
A mummified cat is tormented by the skeletons of past meals.
DemiUrge Emesis 2010 AWARDS:
Stiff- Seattle True Independent Film Festival AWARD: "Best Animated Film"
Fear No Film Festival AWARD: Fear No Filmmaker Award
Independents' Film Festival AWARD: Best Independent Animation
The Indie Gathering AWARD: 1st place Experimental Animation
Famous Monsters of Filmland Film Festival AWARD: 2nd Quarter Winner: Animated Film
Chicago Horror Festival AWARD: Best Experimental Film
Atlanta (Underground??) Horror Film Festival AWARD: Best Short Short
Arizona Underground Film Festival AWARD: Best Animation
Terror Film Festival: Honorable Mention in Filmmaking
Dark Carnival: AWARD: Best Score
2011 Awards
Famous Monsters-Imagi-Movies Film Festival: Best Animation
2010 NOMINATIONS:
Chicago Horror Film Festival: nominated: best special effects
Oklahoma horror film festival: nominated: best animation
Dragoncon: nominated: best short short
Animazing Spotlight: nominated: Achievement in non-narrative animation
Syracuse Horror, Sci-Fi Fantasy Film Festival- Best Animated film
Terror Film Festival: nominated: Best Fantasy Short Film
Terror Film Festival: nominated: Best Sound Design
Terror Film Festival: nominated: Best Original Music Theme Song
Dark Carnival: nominated: Best Short Film
Dark Carnival: nominated: Best Director
X-Mess Detritus- narrated by Gerard Way
Voltaire takes a dark look at holiday gift-giving and the negative effect it has on the Earth in this one and a half minute creepy Christmas parable.
X-MESS DETRITUS AWARDS:
2009-South Beach International Animation Festival- "After Dark" Honorable Mention
2009-Dragoncon Film Festival- "First Place Animated Short-short"
2009-Atlanta Underground Film Festival " Best Short-short"
2009-Official "Warm Up Film" of the Terror Film Festival (screened at the beginning of every screening block).
2009-Terror Film Festival- "Best Fantasy Short Film"
2009-Animazing Spotlight: Nominated for best design overall.
Transrexia- narrated by Richard Butler
A T-rex recalls a relationship gone wrong with a Pterodactyl in this prehistoric postcard.


TRANSREXIA Awards 2008:
*Best Experimental Animation-Dragoncon Film Festival
*Best Short Short- Atlanta Underground Film Festival*Honorable Mention- Twin Rivers Media Festival
*Best film pound for pound- Daggers Horror Short festival, NYC
*Best Fantasy Short- Terror Film Festival, Philadelphia


Rakthavira- narrated by Deborah Harry
A one-minute tour through Hindu Hell as narrated by Blondie's Deborah Harry

More videos coming soon.  In the meantime, you can see the entire collection at:
Previous events
HaVoK presents Aurelio Voltaire LIVE at Scout Bar DJ Naika Whisperwish All Ages Welcome Doors at 7pm With DJ Whisperwish
General admission and Table reservations available!
Voltaire's Self Run Social Networking Pages!
Search This Site And the Web
Custom Search