PAINT IT BLACK: A GUIDE TO GOTHIC HOMEMAKING: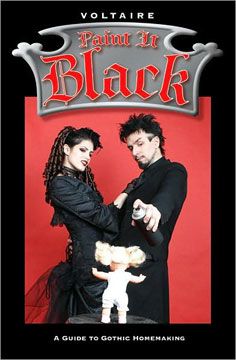 Pub. Date: August 2005
Publisher: Red Wheel/Weiser
Format: Hardcover , 112pp
Home decorating will never be the same. Close your curtains! Throw away your summery linens! Forget about those white eyelet pillow covers! And for Goth's sake, buy some black lights! Voltaire is here to help you with your home decorating dilemmas, guide you through the hardware stores and decorating centers (which are so difficult for Goths to navigate), and lay it all out on the line about which shade of black goes with which shade of black. Who knows?! One day soon he might have his own decorating line at a discount store. In this world of pastels and plaids, it's so hard for Goths to find anything aesthetically appealing. You go in search of Edward Gorey and wind up with an eyeful of Eddie Bauer. With Voltaire's Paint It Black you can turn the unbearably mundane into the delightfully macabre with little more than a touch of creativity and a can of black spray paint.
* Make your own Gothic toys! It's all about Barbie meets electrical tape.
* Transform your plain sketchbook into a skull-covered Book of the Dead that would make Lovecraft proud.
* Pimp your ride Dracula style.
* Plan your Goth wedding.
* Bake a "Graveyard Cake".
* Turn your bedroom into a lair.
Using simple techniques and easily-found, affordable supplies, Voltaire and friends transform the normal into Gothic like nobody's business. Fully illustrated with photos showing the before, after, and everything in between. See them paint stuff black! See them freaking out the normals at the mall! Follow their lead and create your own Gothic dream home.
Previous events
HaVoK presents Aurelio Voltaire LIVE at Scout Bar DJ Naika Whisperwish All Ages Welcome Doors at 7pm With DJ Whisperwish
General admission and Table reservations available!
Voltaire's Self Run Social Networking Pages!
Search This Site And the Web
Custom Search