Black Labyrinth Scented Candles and Resin Base
The Black Labyrinth Scented Candle line
By the Lair of Voltaire
Enter the word of the Black Labyrinth with four scented candles created by Aurelio Voltaire! Inspired by his musical epic, The Black Labyrinth, each candle represents a character, creature or corner of this magical land. Whether it's swaggering regal pirates, smoldering Shadows, enchanted white unicorns or the Goblin King himself, there's a scent here for everyone! 
Purchase a Forest of Shadows resin base for the perfect place to display your Black Labyrinth candle (or any candle 3 inches in diameter or less)
Base sold separately (or buy a bundle to get all four candles and one base and save!)
Click below to be transported to the fragrant land of the Black Labyrinth Scented Candle line!
Raised by Bats Women's T-shirt
Raised by Bat's Women's Tees
Two sided/ Glow in the dark!
The classic Raised by Bats glow in the dark T-shirt now comes in a more form-fitting woman's style.
This two-sided shirt has the phrase "I Was Raised by Bats" on the back in big, bold gothic letters.
Sizes small through 3XL available!
Craven Plush Toy
Craven Plush Toy
From the Black Labyrinth
Introducing, the Craven plush toy! This creature, which is part cat and part raven, is a mythological beast from the upcoming Black Labyrinth book by Aurelio Voltaire. And now you can hold this fantastic winged cat in your arms as a high quality plush toy. About the size of a real black cat, the Craven stands 13 inches tall and is made from a luxurious, velvety material you will want to pet for hours! Elegantly posed, this regal and magnificent creature will stand guard over your lair as it eagerly awaits your return. If you (or someone you know) love cats and ravens, you will absolutely adore this realistic Gothic plush!
$60
Lair Bat Figurine
Lair Bat Figurine
This adorable bat figurine is so realistic, you'll think you're holding a real bat! But don't worry, no bats were harmed nor even involved in the creation of this amazing figurine! The Lair Bat is made of a light-weight rigid material covered in an incredibly soft and super realistic synthetic fur. Place them high up on a shelf to look over and guard your Lair, like they do at the Lair of Voltaire or display in a favorite spot that needs a little darkening up!
Size is 11" x 5"
$30
Candy Claws Plush Toy (Leathery Wings Edition)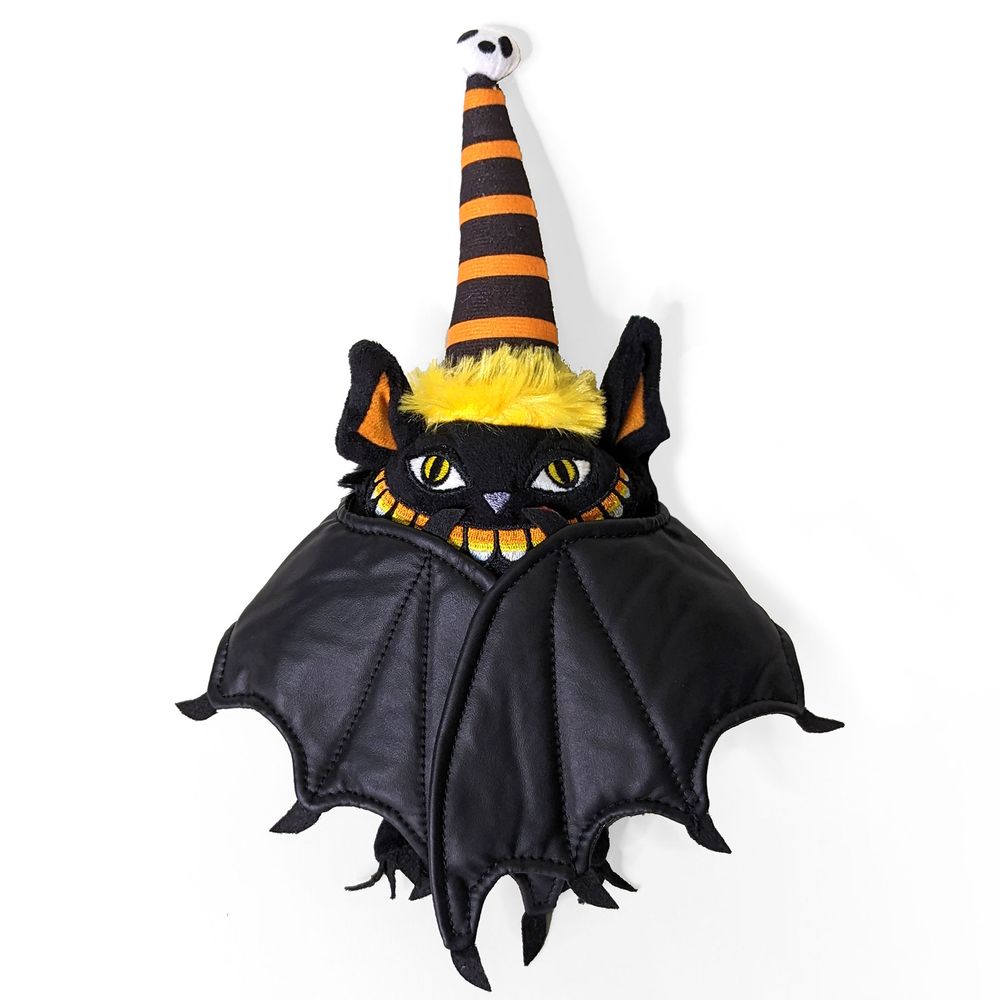 Candy Claws Plush Toy
Leathery Wings Edition
Size is 17" x 12".

Candy Claws, that beloved Halloween-candy-bringing gargoyle from Aurelio Voltaire's book The Legend of Candy Claws is back! This is the third incarnation of Hargoyle the gargoyle as a plush toy and it's the most exciting yet! The Leather Wings Edition features faux leather wings that will make you feel like you're hugging a real bat when you give this adorable little imp with the candy corn grin a squeeze.
$25

Get The Legend of Candy Claws book HERE.
The Darkside Royalty Make-Up Collection
The Darkside Royalty Make Up Collection
by The Lair of Voltaire
We all have our evenings when we make ourselves comfortable and stay in our Lairs to watch some horror movies or listen to some spooky tunes. But, when it's time to spread our wings and take into the night, we just might want to pretty ourselves up a bit for an elegantly spooky night on the town. We at The Lair of Voltaire have a simple ritual of Gothic basics we use for such occasions and for the first time, we are sharing it with our closest friends. Presenting, The Darkside Royalty Make-Up Collection. This 4-piece set contains everything you need to head out to the local Goth night or venture into the darkness and paint the town black like the dark aristocrat of the night that you are! This set includes:

1) Villain Black Eye Pencil
2) Villain Black Mascara
3) Villain Black Lipstick
4) The Black Labyrinth Eye Shadow Palette
Contains the following colors:
Villain (a deep black), Unicorn (a pure white), Gloom ( a gloomy gray), Zenobia (a light purple), Valarian ( a royal purple). It's everything you need to create the perfect Gothic Goblin King look and much, much more! PLUS… it all comes in a FREE limited-edition Lair of Voltaire make-up bag that will never be offered again. The bag features a bold, full-color design on canvas on the outside and a luxurious black satin lining on the inside. This $20 value is our gift to you when you purchase the Darkside Royalty Make~up Collection. All of our make-up is guaranteed to be high quality, vegan and cruelty free! Supplies are limited!
$99

Shipping NOW! Very limited!
 
Villain Black Nail Polish by The Lair of Voltaire
Villain Black Nail Polish
By The Lair of Voltaire
It's not Goth night until you've applied a luxurious coat of black nail polish to your talons. And now you can with a black so dark we called it "Villain". Whether you're painting your nails black for a night out at the local Goth club, to go with your magnificent villain cosplay or just to kick around in a cemetery, all will know you are Darkside Royalty when you bare your claws. Because, while wearing Villain nail polish… It's So Easy When You're Evil!

Despite its name, Villain nail polish is vegan, cruelty free, and non-toxic. But don't worry, we won't tell anyone you might actually be a nice person under that exquisite dark facade! This traditional nail polish is made of high quality ingredients in the United States of America.
$16

NOTE: AT THIS TIME WE ARE NOT ABLE TO SHIP THESE ITEMS OUTSIDE OF THE UNITED STATES. PLEASE DO NOT ORDER IF YOU LIVE OUTSIDE OF THE USA.
Two-Piece Coffin-Shaped Incense Burners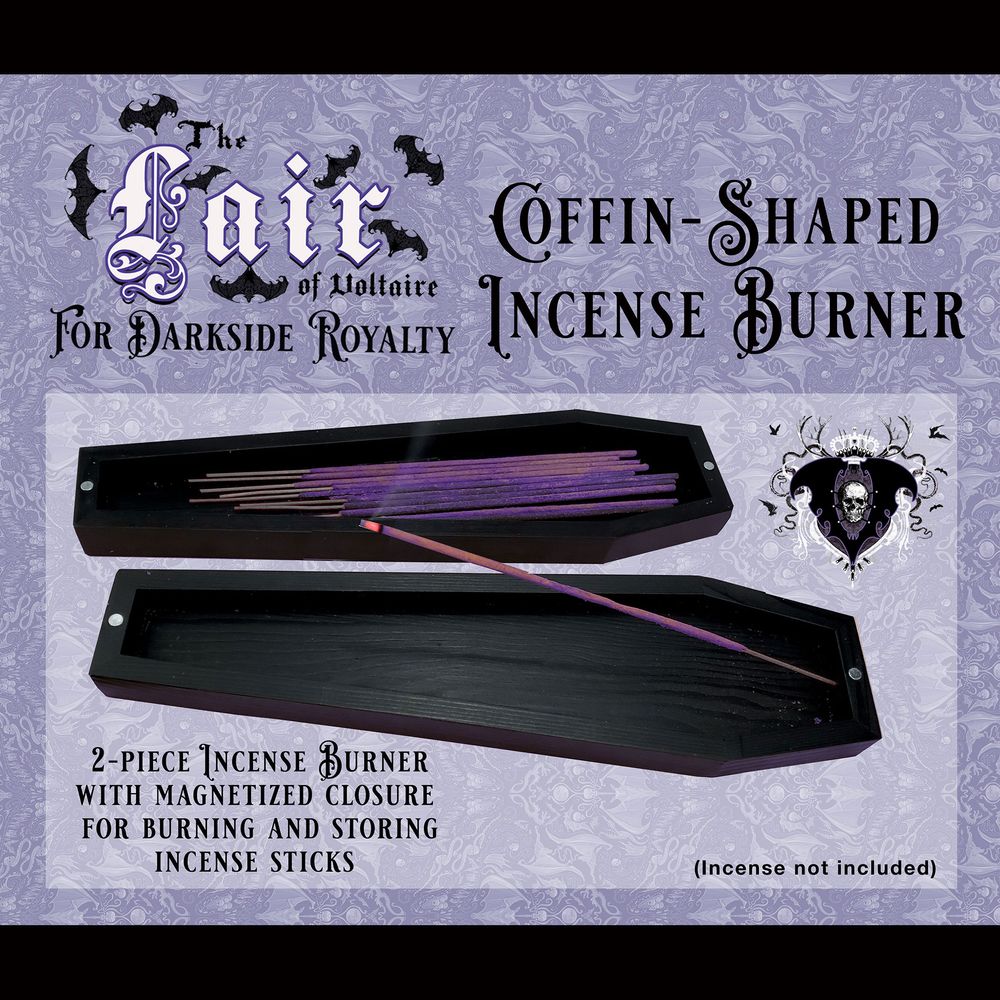 Two-Piece Coffin-Shaped Incenser Burner
By The Lair of Voltaire
What could be better than a coffin-shaped incense burner? Why, two of course! This 2-piece set comes apart into two separate pieces. Use then both to burn incense in two separate corners of your lair or… use one to burn incense and the other to hold the incense sticks! And better still, the two pieces have a magnetic closure so you can store your incense and take it with you to a relaxing graveyard picnic or some other serene spooky affair.
These 2-piece coffin-shaped incense burners are 11 inches by 3 inches and are hand-crafted out of wood.
Incense not included.
Globlin Gel Holder by The Lair of Voltaire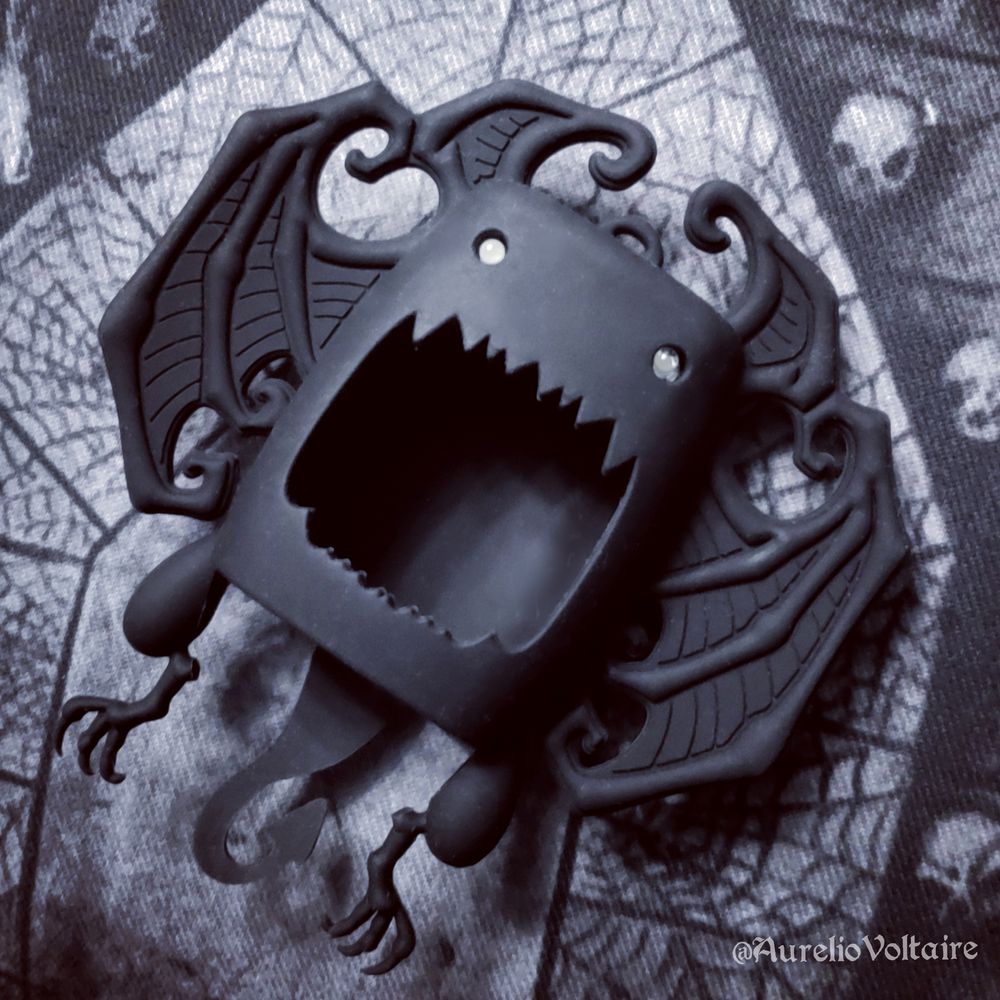 Introducing the Globlin Hand-Sanitizer Dispenser by The Lair of Voltaire!
Direct from The Lair of Voltaire comes our first hand-sanitizer dispenser, The Globlin! 

This adorable creature is made of sturdy black silicone and is designed to hold and dispense globs of germ-killing hand-sanitizer. This mischievous imp has an impressive wingspan of 4 inches and a height of 4.5 inches! It comes with a high quality black chain with clip so that it can hang from your backpack, purse, spaceship or hearse and go everywhere you go keeping your talons germ-free! A gentle tap on the forehead, causes its eyes to light up so brightly that it's nearly impossible to photograph! Perfect for lighting your way while trick-or-treating, on midnight hikes through cemeteries or finding your way through haunted houses. 

(Hand-Sanitizer not included! While we perfect our line of germ-killing elixirs feel free to use the amazing scents from Bath And Body Works which fit perfectly into this little devil!)
They are $20 each. Click the button below to buy yours today!
Cemetery Soap by The Lair of Voltaire
Cemetery Soap!
By the Lair of Voltaire
Wash away the evil with Cemetery Soap by The Lair of Voltaire! These highly detailed tombstone-shaped soaps are the perfect detail for your Gothic bathroom. But they're not just for decoration! They offer rich lather and clean aromas that will leave you feeling rejuvenated after a long day of digging graves. And if you dig graves, you'll definitely dig these! With four varieties to chose from, there is one for every lover of the macabre. They make the perfect gift for that spooky soul, horror fan or Halloween-lover in your life!
Choose from:
Gothic Cloves - This ominous black tombstone offers a clean aroma with a subtle hint of cloves. With rich, purple lather, it's the Gothest of our Gothic soaps!
Funeral Flowers - You'll swear you can smell the pine box and some elegant white florals when you pay your last respects to the day's dirt and luxuriate in the tub with this one.
Halloween Spice - For those who can't get enough of the haunting season, we offer this pumpkin-colored bar with a subtle hint of autumn spices
Lair - Strictly for Darkside Royalty, Pirate Captains and Vampire Monarchs, this regal purple offering has a hint of the Lair fragrance, the scent created and worn by Aurelio Voltaire
The Black Labyrinth ~A Requiem for the Goblin King
Gothic Gift Wrap by Aurelio Voltaire
The Very Best of Aurelio Voltaire Volumes 1 and 2 CD Release!
Gothic Christmas Stockings are HERE!
The Black Labyrinth Poster