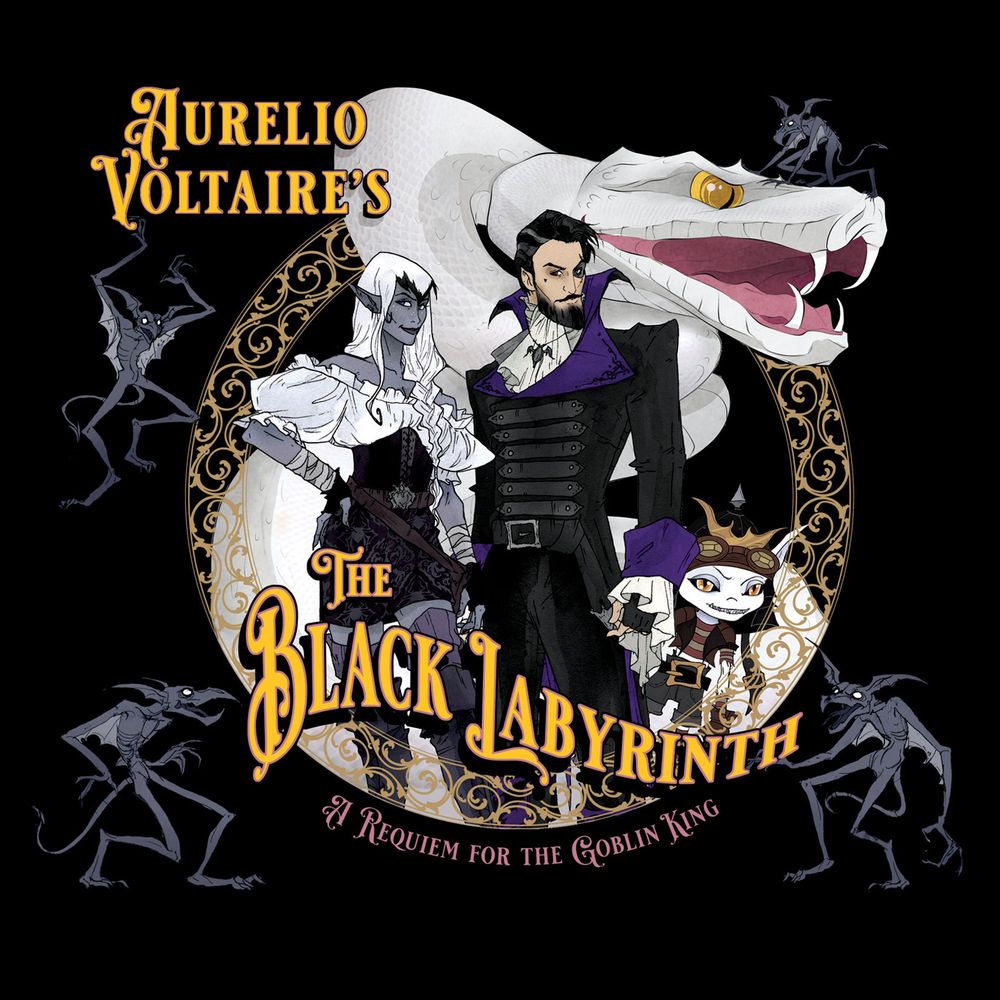 The Black Labyrinth CD
Pre-order Today!
Aurelio Voltaire's 13th studio album is a 20-song musical adventure inspired by the 1986 film, Labyrinth in which David Bowie played the Goblin King. Voltaire recorded this homage to his musical hero, with 15 members of David Bowie's band from nearly all era's of the Starman's career (from the pianist from 1972's The Rise and Fall of Ziggy Stardust and the Spiders from Mars all of the way to the saxophone player from Black Star, Bowie's last album).

Also featured on this epic adventure are members of My Chemical Romance, Trans Siberian Orchestra, The Cog is Dead, Vision Video, Frenchy and the Punk, violinist Mia Asano, Ally the Piper, Ginny Di and MORE!

Track list:
1) The King is Dead
2) A Song for the Goblin King
3) Friends in the Dark
4) I Laugh ( In the Face of Death)
5) Someone Like You
6) Little White Lies
7) Oubliette
8) No Honor Amongst Thieves
9) Better Than You
10) As High as the Wind Blows
11) Keep on Moving
12) The Soldier's Blade
13) What Will We Do?
14) Kill the Beast
15) Safe in Your Love
16) The King of Villains
17) The Shadow that Falls Over You
18) It Was Music All Along
19) As the World Falls Down
20) Magic Dance Underground

This is a double album that contains 2 discs with a total running time of 1 hour, 31 minutes.

Album release date: Friday, December 16th

$20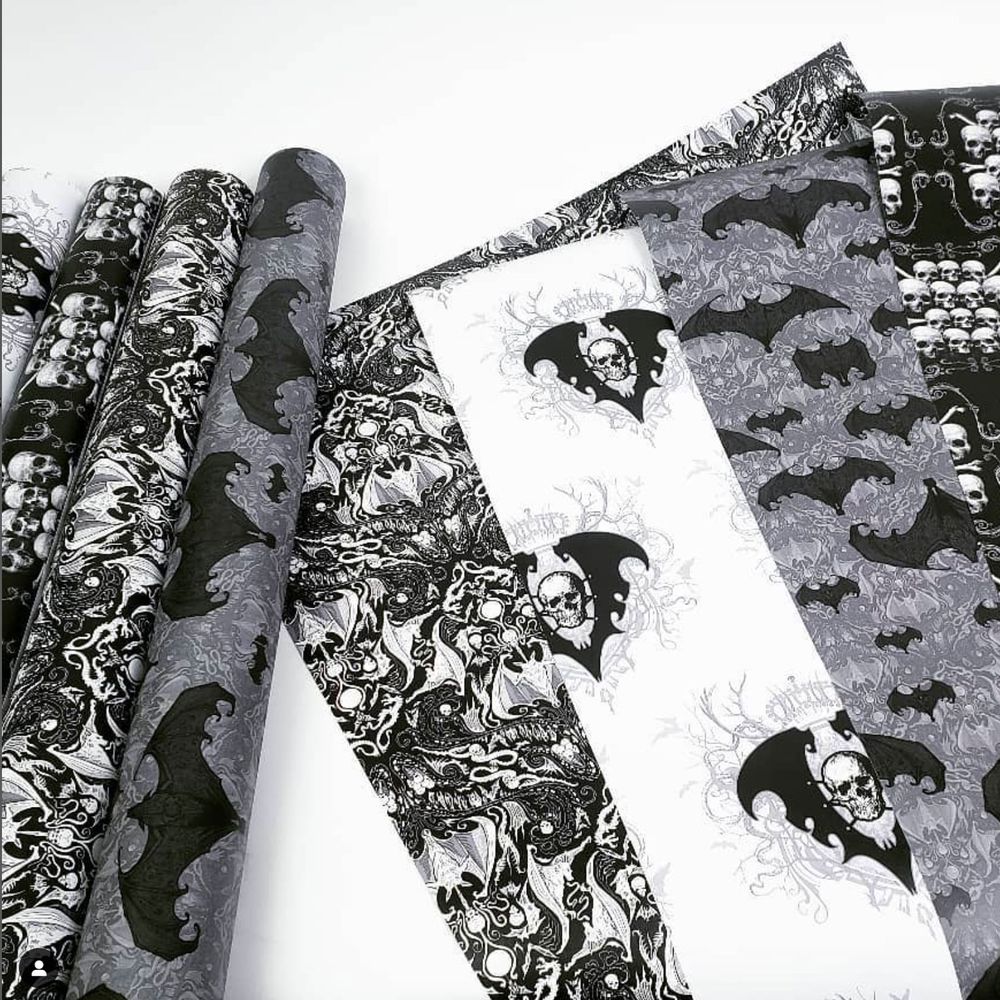 Gothic Gift Wrap
By Aurelio Voltaire
You're buying or making only the spookiest of items for you dark dears... you're not going to wrap them in red and green wrapping paper with Santas on them, are you? Finally, there are wrapping papers worthy of the dark delicacies you plan to gift the frightfully delightful Darkside Royalty in your life!
Two-Piece Coffin-Shaped Incense Burners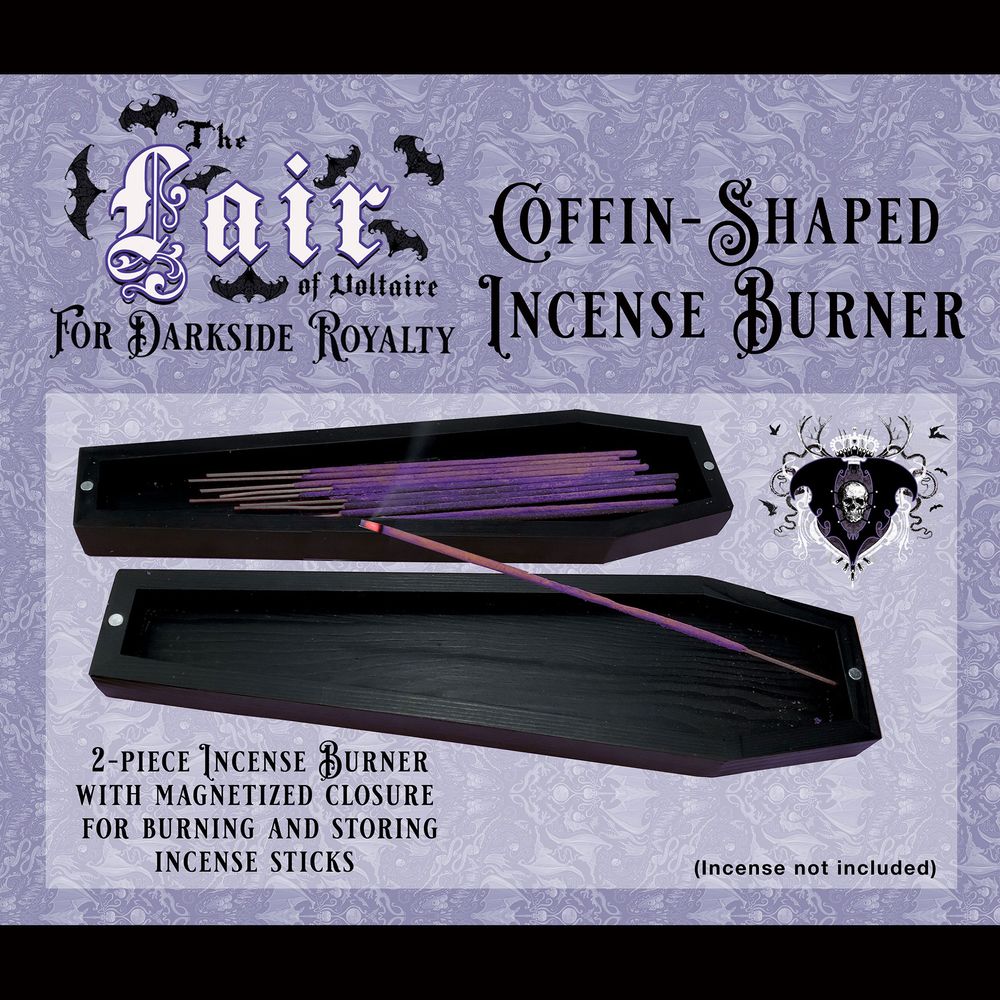 Two-Piece Coffin-Shaped Incenser Burner
By The Lair of Voltaire
What could be better than a coffin-shaped incense burner? Why, two of course! This 2-piece set comes apart into two separate pieces. Use then both to burn incense in two separate corners of your lair or… use one to burn incense and the other to hold the incense sticks! And better still, the two pieces have a magnetic closure so you can store your incense and take it with you to a relaxing graveyard picnic or some other serene spooky affair.
These 2-piece coffin-shaped incense burners are 11 inches by 3 inches and are hand-crafted out of wood.
Incense not included.
The Black Labyrinth Unicorn Shirt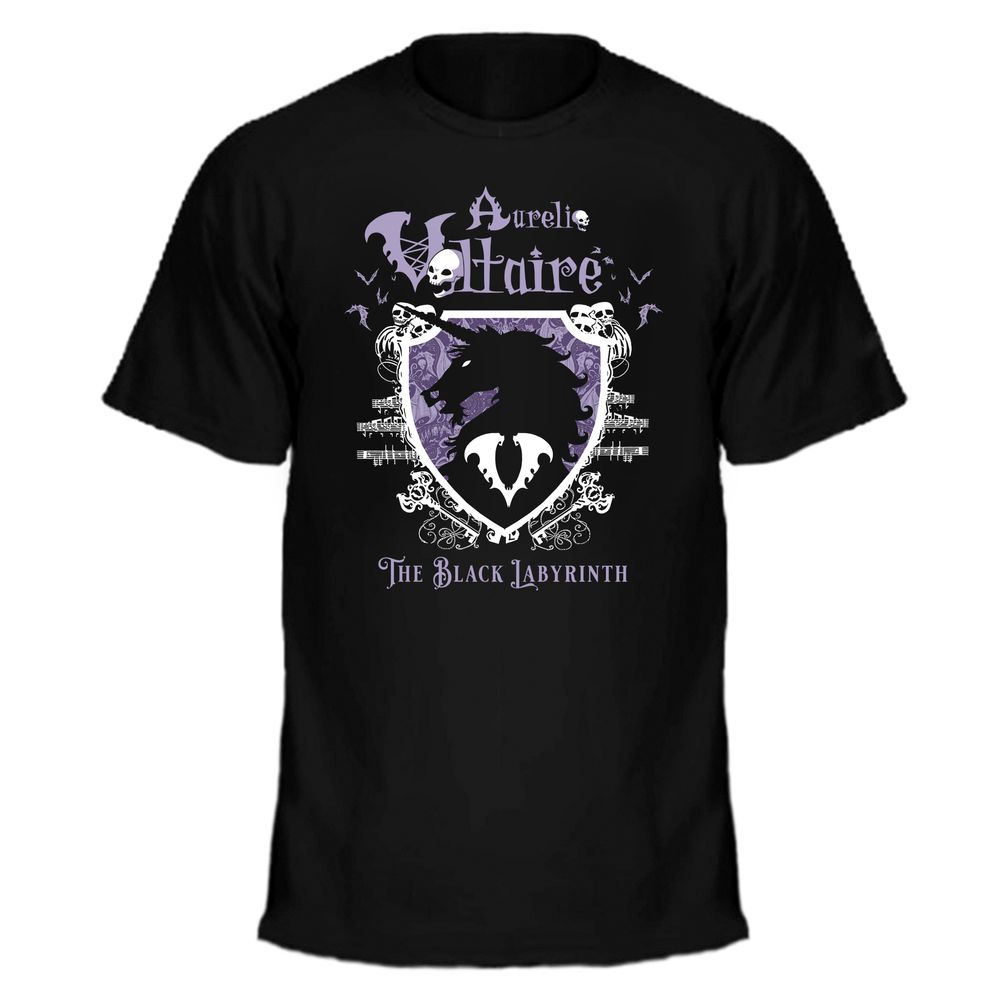 The Black Labyrinth Unicorn T-shirt
The Black Labyrinth album is charging your way like a black unicorn racing down the side of an erupting volcano! While there's no release date for the album as of yet, you can show your support and anticipation for Aurelio Voltaire's most epic album to date by sporting this first ever Black Labyrinth T-shirt! The black unicorn has been a part of Aurelio Voltaire lore for sometime now, along with skulls and keys. But now, it's all coming together into a whole new, epic adventure! The Black Labyrinth tells a tale of the last black unicorn in the Goblin Kingdom, but you can proudly wear that unicorn today!
Introducing the Globlin Hand-Sanitizer Dispenser by The Lair of Voltaire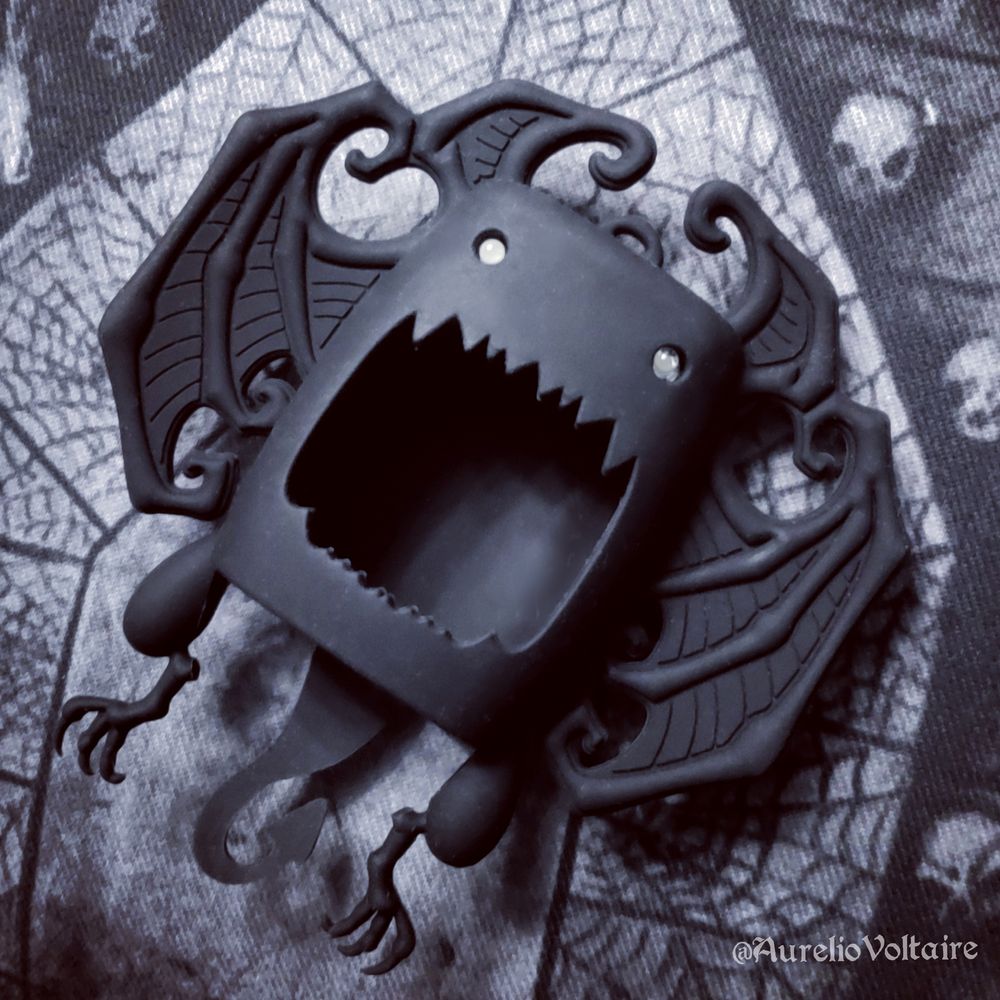 Introducing the Globlin Hand-Sanitizer Dispenser by The Lair of Voltaire!
Direct from The Lair of Voltaire comes our first hand-sanitizer dispenser, The Globlin! 

This adorable creature is made of sturdy black silicone and is designed to hold and dispense globs of germ-killing hand-sanitizer. This mischievous imp has an impressive wingspan of 4 inches and a height of 4.5 inches! It comes with a high quality black chain with clip so that it can hang from your backpack, purse, spaceship or hearse and go everywhere you go keeping your talons germ-free! A gentle tap on the forehead, causes its eyes to light up so brightly that it's nearly impossible to photograph! Perfect for lighting your way while trick-or-treating, on midnight hikes through cemeteries or finding your way through haunted houses. 

(Hand-Sanitizer not included! While we perfect our line of germ-killing elixirs feel free to use the amazing scents from Bath And Body Works which fit perfectly into this little devil!)
They are $20 each. Click the button below to buy yours today!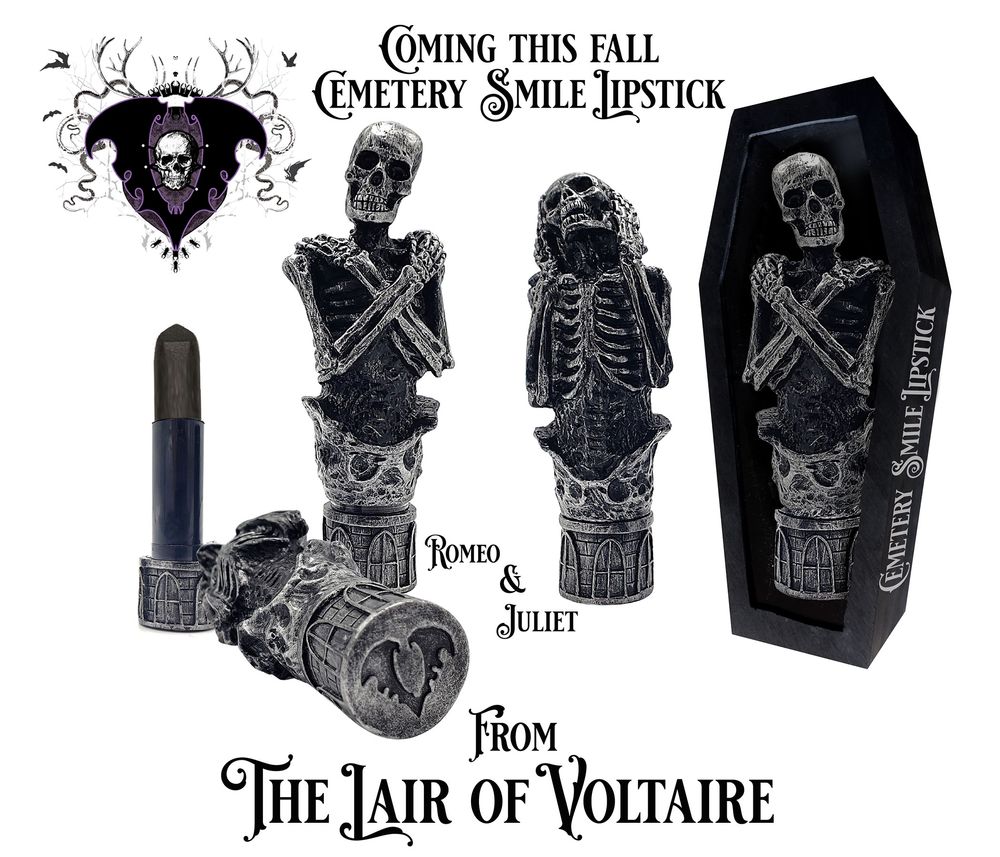 Cemetery Soap by The Lair of Voltaire
Cemetery Soap!
By the Lair of Voltaire
Wash away the evil with Cemetery Soap by The Lair of Voltaire! These highly detailed tombstone-shaped soaps are the perfect detail for your Gothic bathroom. But they're not just for decoration! They offer rich lather and clean aromas that will leave you feeling rejuvenated after a long day of digging graves. And if you dig graves, you'll definitely dig these! With four varieties to chose from, there is one for every lover of the macabre. They make the perfect gift for that spooky soul, horror fan or Halloween-lover in your life!
Choose from:
Gothic Cloves - This ominous black tombstone offers a clean aroma with a subtle hint of cloves. With rich, purple lather, it's the Gothest of our Gothic soaps!
Funeral Flowers - You'll swear you can smell the pine box and some elegant white florals when you pay your last respects to the day's dirt and luxuriate in the tub with this one.
Halloween Spice - For those who can't get enough of the haunting season, we offer this pumpkin-colored bar with a subtle hint of autumn spices
Lair - Strictly for Darkside Royalty, Pirate Captains and Vampire Monarchs, this regal purple offering has a hint of the Lair fragrance, the scent created and worn by Aurelio Voltaire
Scented Essential Oil Candles by The Lair of Voltaire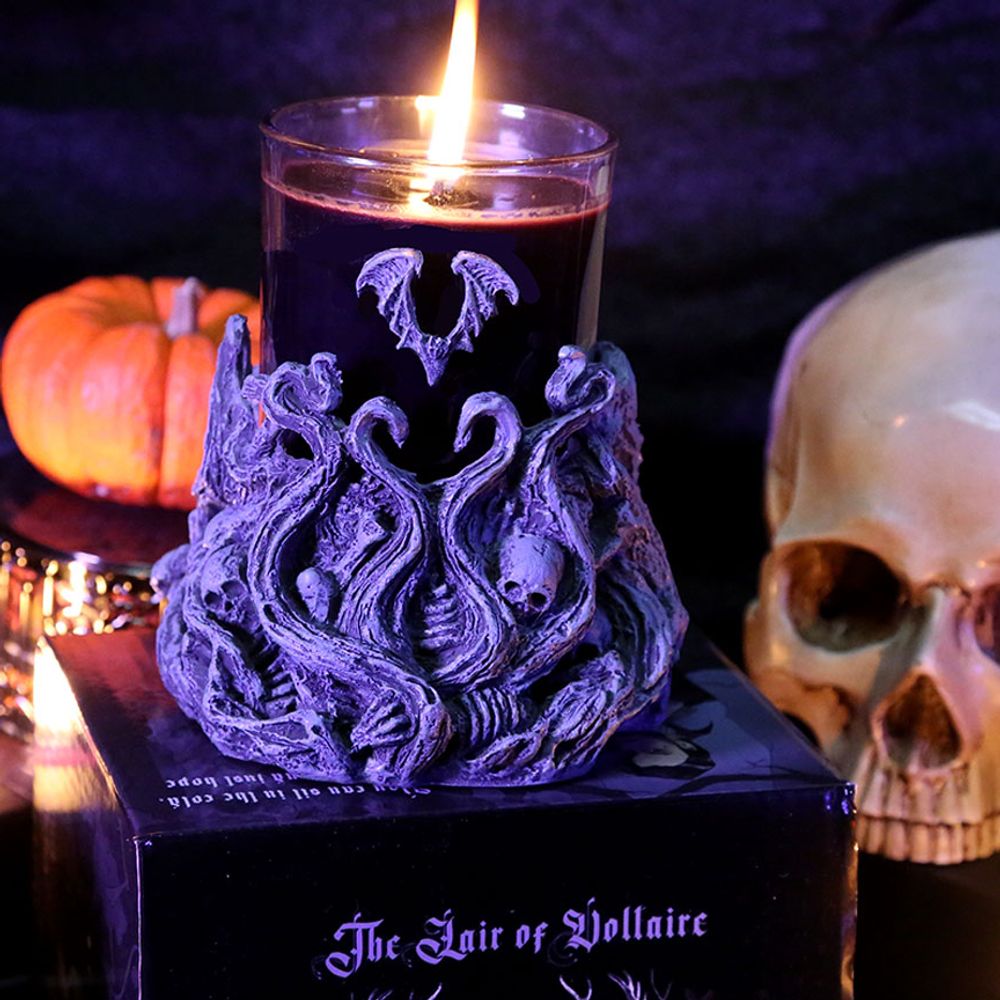 The Black Labyrinth Scented Candle line
By the Lair of Voltaire
Enter the word of the Black Labyrinth with four scented candles created by Aurelio Voltaire! Inspired by his upcoming musical epic, The Black Labyrinth, each candle represents a character, creature or corner of this magical land. Whether it's swaggering regal pirates, smoldering Shadows, enchanted white unicorns or the Goblin King himself, there's a scent here for everyone! 
Purchase a Forest of Shadows resin base for the perfect place to display your Black Labyrinth candle (or any candle 3 inches in diameter or less)
Click below to be transported to the fragrant land of the Black Labyrinth Scented Candle line!
The Very Best of Aurelio Voltaire Volumes 1 and 2 CD Release!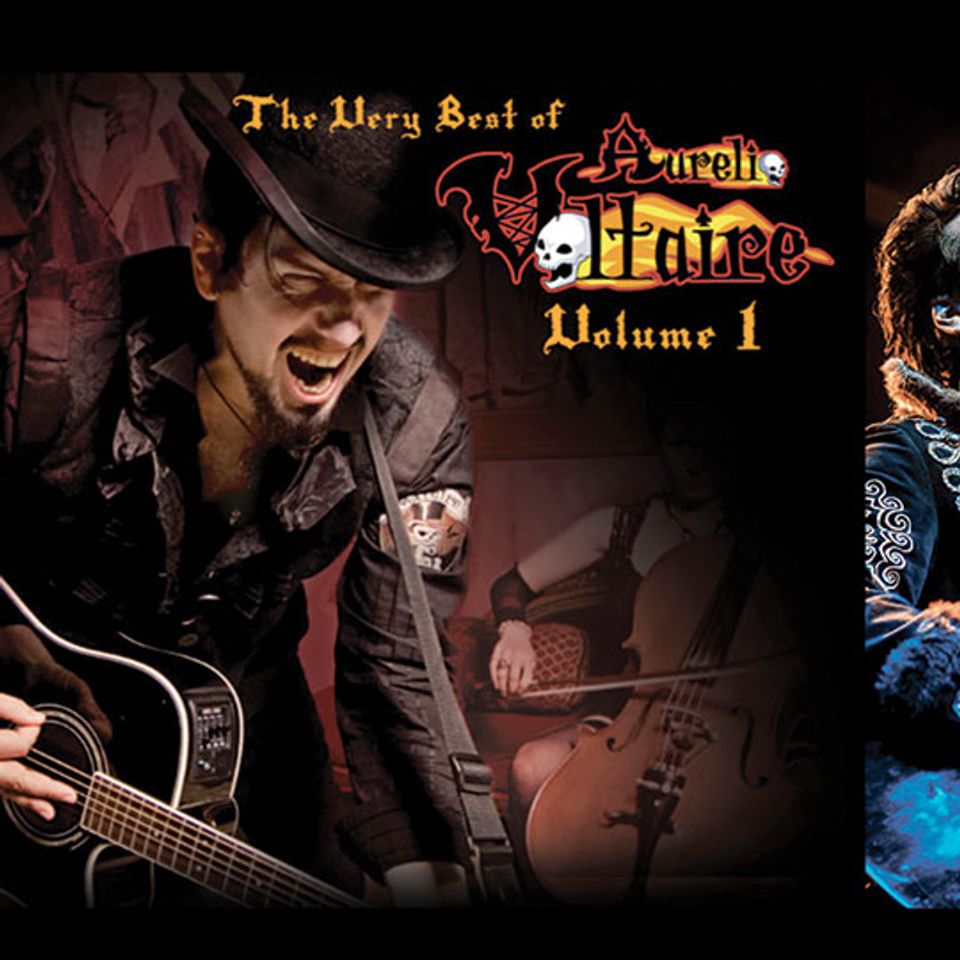 The Very Best of Aurelio. Voltaire Volumes 1 and 2
CD Releases
Introducing... The Very Best of Aurelio Voltaire Volumes 1 and 2!!! Each CD release includes 2 discs and around 22 songs! Volume 1 features classic hits like When You're Evil, Brains, Land of the Dead. Feathery Wings and about 19 other notable tracks from the albums The Devil's Bris, Almost Human, Boo Hoo, Ooky Spooky, Then and Again, Heart-Shaped Wound and What Are the Oodz?
Volume 2 features some latter day favorites like Raised by Bats, The Mechanical Girl, The Beast of Pirates Bay, The USS Make Shit Up and around 18 other notable songs from the albums, Raised By Bats, Riding a Black Unicorn, BiTtektual, Hate Lives in a Small Town and To the Bottom of the Sea! (Volume 2 is a reissue, with minor changes) Both volumes are $20 and can be found in my webstore.... and they come signed!
Gothic Christmas Stockings are HERE!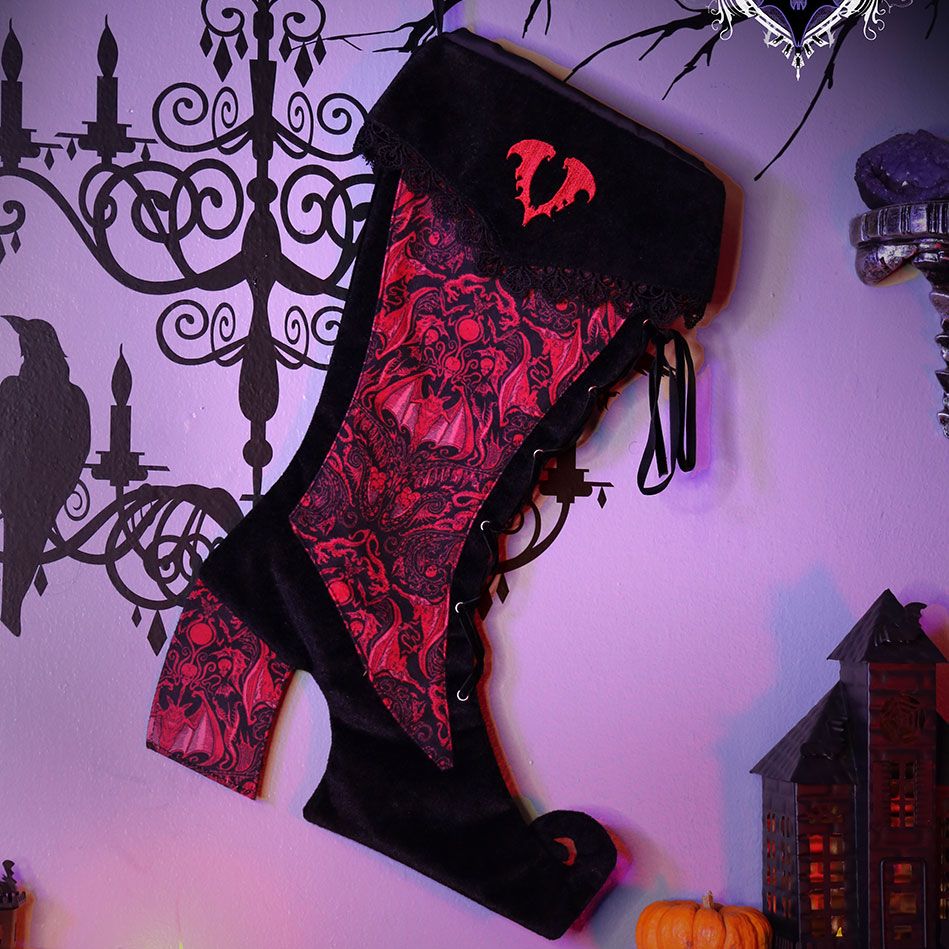 Introducing Gothic Christmas Stockings
From the Lair of Voltaire
That creepy doll, black lipstick or Bauhaus CD you're getting this Cryptmastime would look silly in a regular old Santa stocking. That's why Aurelio Voltaire has designed a Gothic Christmas Stocking aesthetically worthy of the dark delights you're giving or receiving this spooky season. Each huge stocking measures an astounding 2 feet from top to toe and is made of a lush, black velvety material on the outside and satiny black lining within. Modeled after a Victorian era boot, each is adorned with black lace trim, rivets laced with a velvet bow and embroidered with Voltaire's bat-shaped V in metallic thread. The center of each stocking is printed with Aurelio Voltaire's Bats and Beasts print on velvety material.
Stockings come in Bloodbath Red, Darkside Royal Purple and Haunted Mansion Gray
$33 each/ get one today at the link below!
The Black Labyrinth Poster
Custom Search